Who is Nihachu?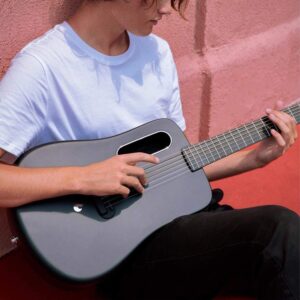 Nihachu is the alias of the Youtube and Twitch streamer Nikita Nihachu. She is currently active online streaming content on YouTube and playing video games on Twitch. She started streaming her games as a means to kill boredom from being stuck at home while she waited to get surgery for her legs.
But the gaming bit came later as she first read German creepypastas. As of the writing of this article, she has 1.4 million subscribers and 2.5 million followers on Youtube and Twitch, respectively.
Aside from gaming, she does live performances with an acoustic guitar, sometimes with Wilbur Soot, another YouTuber who plays video games and writes/performs songs.
So What brand of Guitar does Nihachu Have?
Nihachu plays with several branded guitars. Actually, she has a number of acoustic and electric guitars seen hanging on her wall behind her while she streams. She uses the acoustic guitar primarily for her singing sessions.
Eagletone Madison Black
One of the electric guitars she uses, as best as we can deduce from the image from one of her streams, is the Eagletone Madison Black.
The Eagletone Madison Black is a six-string double-coil electric guitar. It has a 3-way switch for flexibility and tuners boxed in housing for added protection. The guitar's neck is primarily made with Canadian maple, and the body is made of basswood. The total length of the scales is 648 millimeters or 25.51 inches. The Eagletone guitar supports 24 frets, great for shredding, though we never saw Nihachu do any shredding. For its price, it's not bad for people who want to start practicing their guitar playing.
The blue electric guitar also looks like a Squier by Fender Affinity Telecaster LRL, White Pickguard, Lake placid blue. This guitar is described as having a gloss polyurethane finish with the body shape of a telecaster. The neck is bolted on. Its pick-up has a ceramic single-coil configuration.
The maple neck is divided into 21 frets, so it seems pretty standard, not really for serious shredding but is still great for beginners who are not exactly delving into metal. Fret size is configured at medium jumbo and the nuts are made of synthetic bone.
Lava ME 2 by LavaMusic

Nihachu has a collection of guitars, and the Lava Me 2 is just one of these guitars. With advancing technology in carbon fiber, this synthetic material found its way into musical instruments. The carbon fiber composite material is water-resistant, so it does not suffer from water damage and bending. Say goodbye to neck resets, which will save you a ton of money.
Learn More – Guitar Neck Reset Cost
In terms of audio quality, the Lava ME 2 sounds great for an acoustic guitar despite the material it is made of, but the sound quality is subjective, so it is best to watch reviews to listen to the sound quality so you can gauge if this is the right instrument for you. The guitar is designed for low action, so players can play fast without getting tired.
Learn To Play Faster – The Slowpoke Approach for Faster Guitar Playing
When it comes to features, you don't invest in an amplifier for this one, unlike a normal acoustic guitar, as it already comes with some basic audio effects like a reverb and audio boost. This is perfect for performances where you need to get up to speed quickly.
The weight is 3.7 pounds or 1.6 Kg, which is pretty light compared to other acoustic guitars. Standing with a heavy guitar can be exhausting when doing live performances, so buying lightweight guitars is something to consider. To be fair, beginners won't be looking to buy this as their first guitar, anyway.
With all these being said, the guitar is quite expensive (check the current price here) as of the writing of this article. For an acoustic guitar, it can be quite pricey compared to other brands out there. This guitar could be bought as an upgrade rather than a guitar for a beginner.
For a professional performance, it's pretty portable as it is light, and it does not require other accessories like a dedicated amplifier. This is something street performers are sure going to love.
Nihachu's Career
Niki's first foray into internet fame came when she appeared on the Twitch show "Love or Host," which is a popular stream by AustinShow. On this show, an influencer will appear live on the stream and eliminates other matches based on a series of questions about their preferences. After every match is eliminated, the host Austin, will reveal if the influencer picked the host or the influencer.
Additionally, this is how Niki met Wilbur Soot. She appeared on the show when Soot was the influencer and contestant. Wilbur eliminated all other contestants and Niki chose him. The pair have since become excellent friends and business partners by often streaming some of their content together. As a matter of fact, Wilbur even visited Niki in Germany in 2020.
Sine then, Nihachu has been very active on both Twitch and YouTube. She streams many different games such as The Sims 4, Minecraft, and Stardew Valley. She also stream "Just Chatting" sessions where fans can interact with Niki and ask her questions.
Nihachu is also known for her participation in the MC Championship, which is a Minecraft Tournament for YouTubers and Twitch streamers. It's set up with 10 teams of 4 players who all participate in 8 mini-games. She has been competing with different teams for years.
While Nihachu is better known for her gaming achievements and streaming, her fans absolutely love when she breaks out the guitar and sings them a tune. Check out the video below from Nihachu's channel:
Takeaway
Nihachu, considering the type of content she uploads to her audience, sure has a variety of guitars in her arsenal that people who are thinking of playing guitars can explore.
The price ranges of her guitars aren't really in the thousands, so anyone looking to buy a guitar for practice can look into her collection for ideas.
They are a decent collection. Anyone buying guitars should still, however, do some further research based on their musical needs.